It's been a wild ride these last few months for us, as we've announced brand new Wireless Pro access points on the Westside in Santa Cruz, North of Live Oak, and throughout Watsonville. We're not done yet though, as we've added yet another access point. This time, looking toward our neighbors up to the north: Scotts Valley. Take a look at our new access point at the Enterprise Technology Center.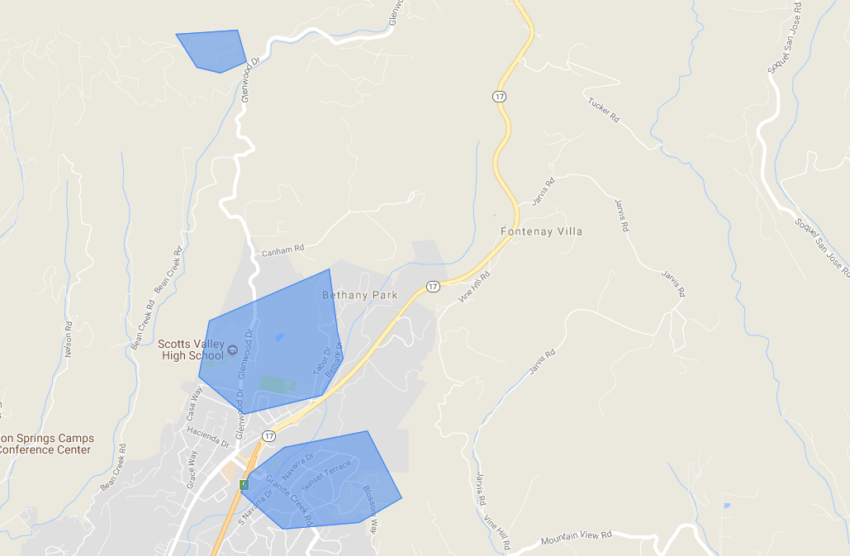 If you live or work inside the blue shapes above, we're ready to connect you to our fiber-backed wireless network as soon as you are. The first step towards your new Wireless Pro connection is filling out your address on our Santa Cruz Fiber Homepage.
Now, let's talk speeds. Wireless Pro has speeds of up to 100 megabits per second, with average speeds of 75+, for both uploading and downloading. It's especially great for activities like putting videos on YouTube, or watching your favorite movies in glorious 4K. (Netflix recommends connections speeds of around 25 mbps for 4K video, so we've got you covered.) In many cases speeds are much faster than that. And as always, your speeds will automatically get better as technology improves as well, with no extra cost to you.
So if you live in this zone, we'd love to hear from you! We can't wait to get you connected. And if you don't live in this area, keep a weather eye on our blog, Facebook, and Twitter pages for even more announcements very soon about our constantly expanding network. Maybe we'll be in your neighborhood sooner than you think.