The best way to get fast, reliable internet to everyone in Santa Cruz County is by building new infrastructure to replace aging phone and cable wires.

It needs to be a physical network that doesn't just go to a few big businesses in the middle of town. It needs to be a network that gets to everyone who wants it.
With our big build, Cruzio is creating the internet network we'd all love to have now, and that we'll all need in 5 years and beyond: gigabits-per-second internet with capacity to grow almost infinitely.
All of this speed can come from more than one technology. Cruzio's long-term goal is to get fiber optic internet to everyone in Santa Cruz County, a process we have already begun — you can keep up with our progress on our homepage. But Cruzio also offers fiber-backed products, already built out in most of the county and which can get fast internet to you right now.
Because our infrastructure is in transition, different locations will have different choices. Generally, we explain them like this:
How to Pick an Internet Connection in 3 Easy Steps!
If fiber is available to you, get fiber! It's awesome, you'll never have to choose another service again.
If fiber's not at your location yet, try and get wireless. Wireless can reach near-fiber speed and reliability.
If Cruzio can't get you fiber or wireless yet, time to look at copper alternatives like Velocity -- still an excellent service in many locations. And be sure to let us know that you want fiber by filling out our survey!
Any Cruzio customer who's eligible for fiber will automatically be upgraded. You'll see much better service with no price increase.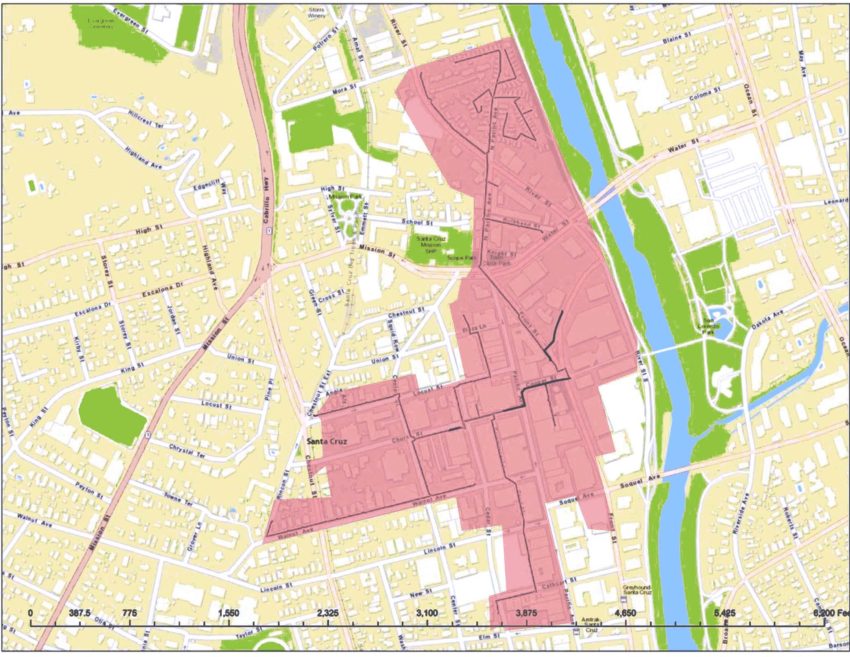 Cruzio has customers all over the county. It's our aim to get every one of you the best internet we can, and to make the "best" even better as often as possible. We are constantly pushing the technical envelope on multiple fronts to upgrade service.
That's a challenge. Infrastructure is lacking pretty much county-wide, and we're in an interesting area in terms of geography — neighborhoods vary from urban to rural, seashore-flat to hilly to mountainous, with all sorts of barriers like highways, eucalyptus groves and poison-oak filled arroyos blocking the way.
Given the geography, Cruzio has to vary our methodology from neighborhood to neighborhood and sometimes from street to street.
Until we're able to revive our all-in-two-years fiber-to-the-home build, our strategy is to first extend fixed wireless internet on a neighborhood-by-neighborhood basis. When we have enough customers on the wireless, we replace it with fiber. We then pick up our high-speed radios, which are no longer needed there, and move them to another neighborhood and repeat the process. Cruzio has done this several times already, replacing wireless connections with fiber at locations on Santa Cruz's West Side, Scotts Valley, and — in the next few months — Watsonville. (Yes, Watsonville, you are getting fiber connections very soon!)
That's not all. When a wireless connection is 30 Mbps, we upgrade it to 50 Mbps as soon as we can, with no increase in price to the customers. When it is 50 Mbps, we've upgraded to 100. Our 100 Mbps connections are upgraded to 350, and from there to 1,000 megabits — aka a gigabit. We intend to keep going with this policy of upgrading connections whenever the technology permits. Wireless science is making rapid gains, so the benefits to our customers are real. Just ask our customers at the River Walk apartments, who went from 100 Mbps to 1,000 Mbps in a year.
The best way to get on this train and encourage us to build wireless, and then fiber, in your neighborhood is to request that we check whether wireless can reach you. And even if we can't get our service to you right away, if enough of your neighbors also make requests, we'll see that we're wanted, and we'll focus on how to reach you.
Cruzio is lucky to exist in an area where an independent internet provider is welcomed. Community participation and support allow us to make these substantial investments around the county, and we thank you. Let's build!