Over the course of the last year, we've been very busy placing new access points for our fiber-backed Wireless Pro service throughout Santa Cruz – from Alta Vista on the Westside, to the Faculty Housing at UCSC, to the area near Dominican Hospital in the east. Now, we're happy to announce that we're bringing service to an area that's been one of our most requested by far: Capitola!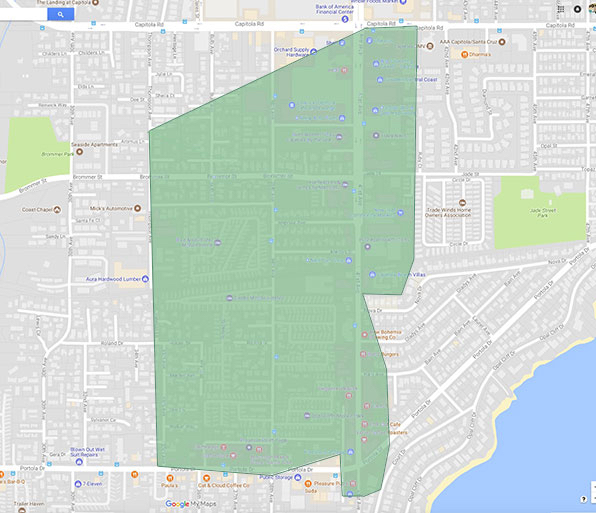 If you see your home or business in the colored shape above, let us know! You're now ready to get connected to speeds up to 100Mbps, with average speeds network-wide of around 75Mbps, for both uploading and downloading!  On top of that, your speeds will automatically get better as technology improves. All of this comes at a flat $99.95/month, with no taxes, no hidden fees, no data caps, and no contracts.

So if you live in this area, let us know! And if you're in Capitola but not in this area, stay tuned. We're excited to bring our fiber-backed network to Capitola, and we're looking forward to building better service throughout the city in the future. This is just the starting point for our fantastic fiber-backed services in Capitola. We are constantly assessing tall buildings and structures to further improve and extend our network. If you know of any, let us know and we can check it out for free!