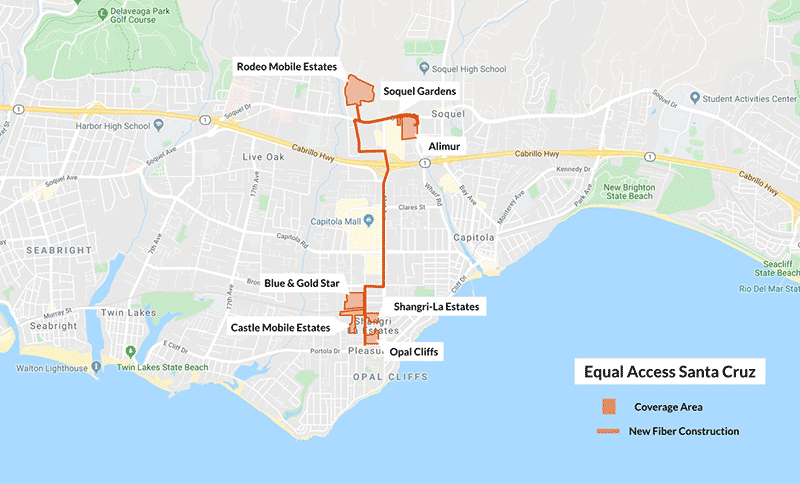 "Cruzio's project equalizes internet access across geographic areas and income levels, and puts much-needed new infrastructure into neighborhoods where substandard service currently exists."
Let us know if you live in one of these neighborhoods! We'll include you in our plans.

When we last left our determined independent ISP, Cruzio announced that it won a grant to serve low-income mobile home parks in mid-County Santa Cruz. But before the grant was won, there was the grant process.
We Really Fit the Bill
Cruzio's Equal Access Santa Cruz (EASC) project is tailor-made for the purposes of the State of California's California Advanced Services Fund (CASF): "to encourage deployment of high-quality advanced communication services to all Californians." 
All Californians. Not just the ones living in the big houses in the middle of town.
Cruzio's project equalizes internet access across geographic areas and income levels, and puts much-needed new infrastructure into neighborhoods where substandard networks currently exist. We're a local company getting our community the internet it needs. We know how to do this; we've done it before.
Slam dunk.
And anyone in a position to know agreed. That was a start.
The Rocky Road We Traveled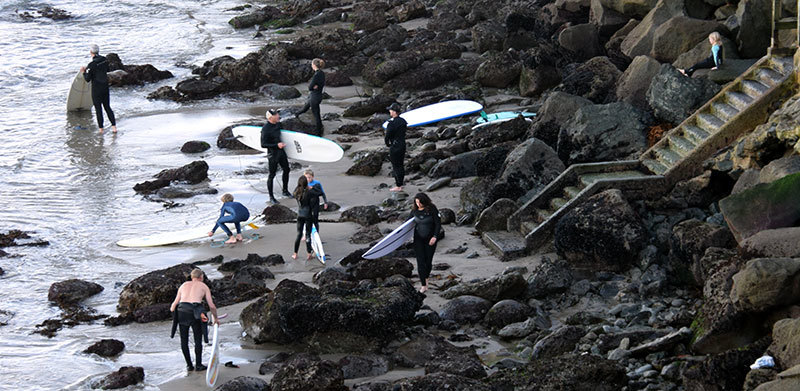 Those of you who've applied for grants know it can be difficult and time-consuming — especially if you have to fight some of the largest corporations in the United States in the process. AT&T, Comcast, Spectrum anyone?

In an effort to boost internet quality in the US without pissing off well-funded interests, federal and state agencies came up with a system that's fairly byzantine and mostly controlled by the companies which own most of the existing infrastructure — yup, those big companies mentioned above.
Using the bizarre argument that competition stifles investment, lobbyists for those large companies have set up guard rails to protect their market positions at the cost of consumers. If an ISP claims to provide six megabits per second downstream to even one home in an area, regardless of price, that area is considered "served" and no grants for improved service will be awarded. 
There is no method in place to check the validity of service claims. So money tends to sit in the pot as competitive ISPs like Cruzio search for places that don't reach even that dismal standard.
Big ISPs Jealously Guard Their Monopolies
When we found such areas in the middle of our own county, based on years of maps produced by the FCC, and applied for funding, suddenly a big ISP took an interest — not in building better infrastructure, but in quashing our grant request. Suddenly, Spectrum declared the area "served" and asked the CPUC to turn us down. 
That challenge succeeded, and took about half the mobile homes out of our project. Those residences won't get a boost from the grant. Cruzio will try to extend to them privately, but the cost of infrastructure is high. As a result of the challenge by Spectrum, the benefit of the grant is more limited than we first intended.
We pressed on, though. From February to November 2019, we went through regulatory and environmental hurdles. We proved our long-term sustainability (Cruzio celebrated 30 years as an internet company in 2019, for goodness' sake) and financial health. Finally, on November 4th, we got a provisional okay on our remaining proposal. 
But — play some minor chords in this scene — it was only a recommendation, not an award.
Hey, what's the difference? Just the final stamp on the paperwork.
We waited for the commission to give us the final thumbs up. This was an unbearably tense time. The behemoth ISPs now had one more chance to challenge our request. Weeks went by. The deadline loomed. Things looked hopeful — looks like we made it? A lot of finger crossing and trying not to jinx it.
The Day Before the Deadline
Then suddenly, the day before the final decision, Spectrum/Charter put in a last-minute dispute. They wanted to remove even more from the project, so that we'd have just a skinny strip of modular homes to serve with an awesome, but expensive, new network. That would change the economic viability of the project. It would kill it.
We were crazy worried. We reached out to our elected officials. Jimmy Panetta's office responded quickly, and took steps to defend the project. But there were many hazards. The former chair of the commission had retired. The new chair was an unknown to us and to many advocates. Would she be more susceptible to lobbying pressure? Nail-biting time.
Then, out of the blue, a knight in shining regulatory armor appeared. Steve Blum, of the aforementioned CCBC, has helped many municipalities plan and build network infrastructure. He submitted a firm rebuttal to the commissioners defending not only our grant but the program itself and its aim of increasing low-cost, high performance internet throughout the State of California.  If you'd like to see community advocacy at work, read his letter here. 
The CPUC recognized the merit of the argument. They approved the grant. The CPUC had done its job. Yay.
Next Steps
Now we need to complete ours. Winning the grant is only one step in a long chain. Funding is given as a reimbursement for finished work, not an up-front payment. So we have to finance and construct the network before we see a penny. 
And although we have the support of the parks' residents, we've discovered that many mobile-home parks have been "rolled up" by private equity firms in the last decade or so. People in the parks generally rent the land their homes are on  — they own the structures, not the dirt. Most parks used to be owned by local companies or HOAs, but not so much any more. 
The actual owners are now pretty detached from the parks and difficult to reach. Cruzio needs to work with the owners to help their residents get free upgrades to their internet, and it is often a challenge finding anyone willing to answer an email or a phone call.
But we are up for the challenge. It was such a great feeling to "light up" our first mobile home park, the El Rio in downtown Santa Cruz. We'll never forget the joy when residents saw they had gigabit speeds for their business, their kids' homework, and their entertainment. Equal, best-of-breed access is what it's really about.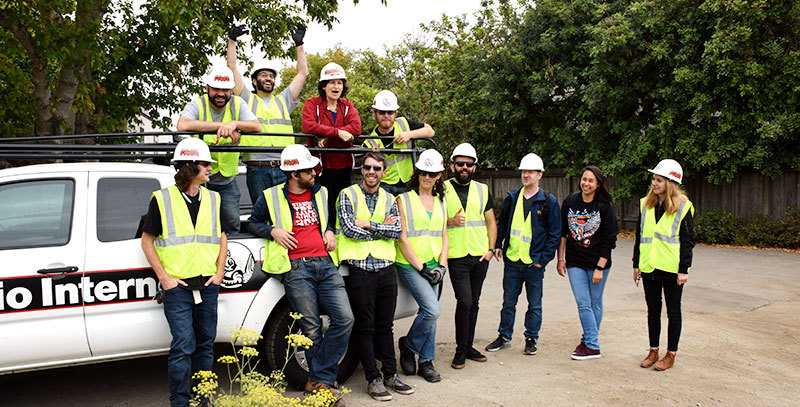 Here's Where We Get to Thank Everybody
The Central Coast Broadband Consortium (CCBC) championed our cause. The CCBC is a state-funded group of experts who spend their time studying where in our tri-county region (Santa Cruz, Monterey, San Benito) the internet sucks, and then figuring out how to improve it. Yes, there's actually someone paying attention to this!
CCBC loved our idea and helped immeasurably. Many thanks especially to Steve Blum and Freny Cooper from Monterey Bay Economic Partnership for their support and for helping us navigate the tsunami of required paperwork, which they somehow understand.
Congress member Jimmy Panetta and his office saw our plan and encouraged us to go forward. Mr. Panetta has been a long-time, well-informed advocate for internet availability and fairness. We've seen him take the right side of the argument on Net Neutrality and personal privacy on the internet. He has some top-notch help in his office: Panetta aides Emmanuel Garcia, Matt Manning, and Carina Chavez made sure their boss's letters of support reached people in the CPUC. 
We're also lucky to have even a State Assembly member who understands the importance of internet to families and businesses around our county. You may not be aware that Mark Stone is a powerful advocate for fast, fair, low-cost internet. He's tried hard, and against heavy odds, to raise standards in our state. When it comes to EASC, he advocated for his constituents and lent his voice.
The support went down the line. County Supervisors Zach Friend and John Leopold, along with Capitola City Manager Jamie Goldstein and Santa Cruz County Economic Development Manager Andy Constable deserve credit for their participation in the process. 
And many thanks to the folks at the CPUC, who gave us the nod. We intend to do them proud. This project will be a feather in their cap.