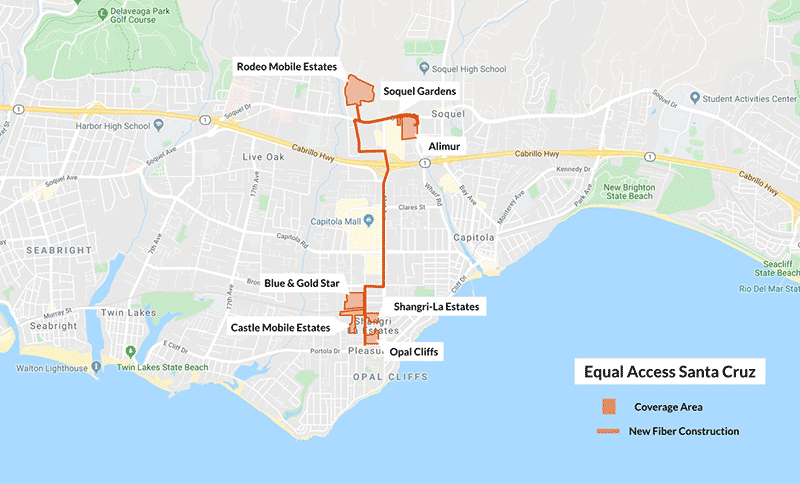 Let us know if you live in one of these neighborhoods! We'll include you in our plans.

Cruzio Wins a Grant
On December 5th Cruzio was awarded a $2.45 Million broadband grant from the California Advanced Services Fund to build high-speed fiber optic internet connectivity to seven under-served mobile home parks in the Capitola area.
Why Santa Cruz County Needs Equal Access
When Cruzio started building our Santa Cruz Fiber network, Santa Cruz County was rated 446th of 501 California metropolitan areas for internet speeds. Too small to attract investment from big ISPs, and too populated for rural subsidy programs, our county wallowed in neglected infrastructure.
Until the early 2000s, Cruzio relied on leased AT&T lines. Those lines were built in an earlier, highly-regulated and subsidized era. With less regulation from the FCC, the big ISPs took advantage of their existing infrastructure and a lack of competition to save costs. Saving costs usually results in lower quality of service.
To our dismay, they started letting local wires age and fray. We realized we had to free ourselves from that aging network and we started building independent infrastructure. Now Cruzio has a considerable — and growing — network serving thousands of local residents. Wherever we build, we bring better options to the community.
We want to get that infrastructure where it's needed most. So we've started an effort we call Equal Access Santa Cruz (EASC). And in early December, EASC won a substantial grant from the State of California.
We Know How Important Internet Is
For years, Cruzio Director James Hackett has said, "Internet is a utility that's become as vital as gas, electricity, or even water."
Something so vital to modern life needs to be available equally to all, no matter what their location or economic circumstances.
The just-announced grant takes a big step towards that goal. After a year of seemingly endless documentation (and many prior years accumulating expertise and experience), on December 5th, 2019 James and fellow Director Chris Frost drove up to Sacramento to receive the grant award for Cruzio's Equal Access Santa Cruz project. Hooray!
Equal Access Santa Cruz
We're honored to get the grant, and it's for a great project. There are several communications "deserts" around Santa Cruz County which have sub-standard internet, as defined by the FCC. Many of these areas are in mobile home parks, where incomes are lower, on average, than the communities around them. They've been ignored by big ISPs — big corporations have a habit of ignoring consumers. Especially lower-income ones.
Cruzio identified seven such communities in mid-County that we can reach with the best internet anyone can build: fiber optic connections direct to each home. Residents of these parks have, till now, experienced some of the worst connectivity in Santa Cruz County. With this project, they can look forward to the best in the USA.
We weren't the only ones who recognized the need for better internet in mid-county neighborhoods. Member of Congress Jimmy Panetta, State Assembly Member Mark Stone, County Supervisors Zach Friend and John Leopold, and many other elected and appointed officials helped move the project forward.
This is All About Infrastructure, and That Can Get Complex. Any Chance You're Still Reading?
Building infrastructure is tough work. Construction is expensive, time-consuming, and rife with licenses and regulations. We don't doubt it's boring to read about — a lot of our job is literally boring holes and feeding cable through them.
But Cruzio builds fiber to last a lifetime. And we know our work will change lives and livelihoods well into the future. It's tough work, but it's work worth doing.
Next: Part II of the story
What happened after we submitted the grant proposal? Did it all go smoothly? Of course not! Read about what happened in Part 2 of Equal Access Santa Cruz Wins Big...